As Time Goes By by Mary Higgins Clark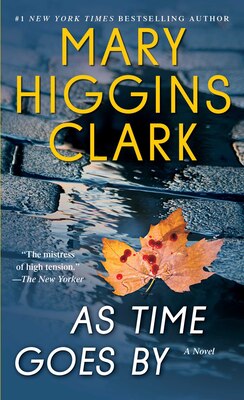 Delaney Wright is perched on the precipice of stardom after she's given the plum assignment of covering a high-profile murder trial. But it's her growing desire to locate her birth parents that consumes her thoughts.
Betsy Grant is at a crossroads after longtime lawyer suggests taking a plea deal for the murder of her wealthy. Alzheimer's-stricken husband. Betsy maintains her innocence, and the suggestion of a plea deal is as jarring as it is unimaginable.
Alan Grant can only sit by as his stepmom prepares for trial for the murder of his father. His inheritance hangs in the balance, as his ex-wife, children and ever-mounting bills continue to suffocate his existence.
The reappearance of Alvirah Meehan, the lottery winner turned journalist, helps to round out the vibrant world of Mary Higgins Clark's latest thriller.
This is a typical Mary Higgins Clark book. It's very light reading, predictable and always has a happy ending. I think the only reason I keep buying and reading her books because I've read everyone (51) of her books! There were a few twists and turns in this book so you weren't 100% sure of 'who done it' to fairly close to the end. I'll continue to read her books, as long as she keeps writing, she's 89, because they are easy, pretty mindless reading.
The Handmaid's Tale by Margaret Atwood
Offred is a Handmaid in the Republic of Gilead. She may leave the home of the Commander and his wife once a day to walk to food markets whose signs are now pictures instead of words because women are no longer allowed to read. She must lie on her back once a month and pray that the Commander makes her pregnant, because in an age of declining births, Offred and the other Handmaids are valued only if their ovaries are viable. Offred can remember the days before, when she lived and made love with her husband Luke; when she played with and protected her daughter; when she had a job, money of her own, and access to knowledge. But all that is gone now....Funny, unexpected, horrifying, and altogether convincing. The Handmaid's Tale is at once scathing satire, dire warning, and literary tour de force.
I found the first 100 pages or so quite slow and boring but it did get better as it went on. There are so many unanswered questions that even though it was written in 1985 it is screaming out for a book 2. Apparently Margaret Atwood is considering it-over 30 years later!!! I have recorded the tv series so I'm looking forward to watching it and seeing how far it wonders from the original.
White Fire by Preston & Child
Special Agent Pendergast arrives at an exclusive Colorado ski resort to rescue his protegee, Corrie Swanson, from serious trouble with the law. His sudden appearance coincides with the first attack of a murderous arsonist who-with brutal precision-begins burning down multimillion-dollar mansions with the families locked inside. After springing Corrie from jail, Pendergast learns she made a discovery while examining the bones of several miners who were killed 150 years earlier by a rogue grizzly bear. Her finding is so astonishing that it, even more than the arsonist, threatens the resort's very existence.
Drawn deeper into the investigation, Pendergast uncovers a mysterious connection between the dead miners and a fabled, long-lost Sherlock Holmes story-one that might just offer the key to the modern day killing as well.
Now, with the ski resort snowed in and under savage attack-and Corrie's life suddenly in grave danger-Pendergast must solve the enigma of the past before the town of the present goes up in flames.
After reading the book I found that this book is #13 or so in a series. While they can be read independent of each other there is obviously a relationship between Corrie and Pendergast that has developed in the previous books. This was an interesting read with the connection with Arthur Conan Doyle thrown in who had heard the story of the grizzly bear and the miners. Unfortunately I found Corrie a rather annoying, immature, and impulsive character. Some of the decisions she made were so stupid and beyond belief that it took something away from the story.
Downfall by J.A.Jance
A puzzling new case has just hit Sheriff Joanna Brady's department, demanding every resource she has at her disposal-as well as help from neighboring law enforcement agencies and the Feds. The bodies of two women have been found at the base of a nearby peak, known to Brisbee locals as Geronimo. Is this a terrible accident, a case of murder/suicide, or a double homicide?
The investigation takes a bewildering turn when Joanna discovers that one victim was a local teacher and minister's wife, while the other was a brilliant microbiologist working towards her Ph.D.-two vastly different women with seemingly no connection to link them.
As Joanna and her team methodically hunt down answers, they begin to uncover a knotty web of sordid secrets and evil lies-clues that take the valiant sheriff down a winding and dangerous road that leads shockingly close to home...and close to a desperate and determined killer.
I enjoyed this book. It was an easy read and a twist at the end kept you guessing until close to the end.
The Silent Girls by Eric Rickstad
Frank Rath thought he was done with murder when he turned in his detective's badge to become a private investigator and raise a daughter alone. Then the police in his remote rural community of Canaan find an '89 Monte Carlo abandoned by the side of the road, and the beautiful teenage girl who owned the car seems to have disappeared without a trace.
Soon Rath's investigation brings him face to face with the darkest abominations of the human soul. With the consequences of his violent and painful past plaguing him, and young women with secrets vanishing one by one, he discovers once again that even in the smallest towns on the map, evil lurks everywhere-and no one is safe.
This was an interesting murder/mystery and there were many twists and turns in the story. Some of them seemed irrelevant to the story but were thrown in for whatever reason. The ending was a bit of a jaw dropper which pretty well guarantees a sequel.
That's it for now, I seem to be pretty slow on the reading this year. I'm sure I've read more than 12 by the middle of the year in the past. At this rate I'll definitely have to live to past 100 to read all my books.
Bye for now.