Trying to catch up with the books I've been reading. There's a few more but this will do for now.
Grooms by Nora Roberts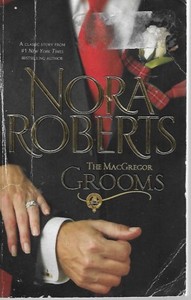 This is another book in the

MacGregor

series. Very light reading. You can predict what is going to happen in the first 5 or 10 pages. I guess the interesting part is in how they get to the predictable endings.
After the Rice by Wendy French
This is an interesting book dealing with family dynamics. Having to put up with a distasteful uncle that lands on the newlyweds couch and a sister that is a hippie trying to figure out where she's going. Having to put up with them because they are 'family'. Then the question of finding out the wife is pregnant when they had decided not to have children and what they will ultimately do.
Bombshell by Lynda

Curyn
This is about a 34 year old marketing exec who works for a cosmetics company and lives in New York. She is confronted with the cosmetic company going in a new direction with a 'younger' image. Her private life is going nowhere, boyfriends with no ties or commitment and dealing with the fact that she is adopted and learning about her birth mother and the family that goes along with it.
Husbands and other Lovers by Jane Elizabeth

Varley
This is about a very successful couple (on the surface). He is a brilliant city lawyer , she is in real estate and they have one child from her previous marriage. The have the big swanky house and all the trappings. What becomes evident is that he is an alcoholic and she is not happy in this marriage. The husbands brother is a millionaire who has his own PR agency. He represents some beautiful women and this deals with his relationships with them. I found this book to be a really good read. I will have to look for her other book Wives and Lovers.
Fixing Shadows by Susan Barrett
This was a very strange book to read. It takes place in 1873 London, England. The Duchess of Fainhope gives birth to a child that ddoesn't survive, and her governess, Miss Mantilla gives birth to an illegitimate child. Of course the inevitable happens. The dutchess needs an heir and so the children are switched at birth. It chronicles the lives of the two women and the child over about 25 years. I can't say much good about this book. I found it very boring and wouldn't recommend it to anyone.
That Summer Place by Debbie Macomber, Susan Wiggs and Jill Barnett
Everyone seems to fall in love at Rainshadow Lodge. This is about three different women. Beth who's stuck sharing the lodge with a complete stranger. Mitch, a workaholic on a deadline who has to depend on Rosie who is a free spirit who likes ro function on 'island time'. Then there's Catherine who is falling in love with Michael, the lodge handyman. Again, the outcome for all involved is pretty predictable but this was an enjoyable read.
Strangers in Death by J.D. Robb
I really enjoy these futuristic books written by Nora Roberts as J.D. Robb. Lieutenant Eve Dallas and her billionaire husband, Roarke, are the central characters. This time they are dealing with the death of a prominent businessman, found in his apartment, tied to his bed-and strangled.