Without Fear or Favor by Robert K, Tanenbaum
When a New York City police officer shoots a seemingly unarmed teenager, tensions between the police force and Harlem black rights activists ignite. The community, believing that the teen had no weapon is outraged and demands that the officer be prosecuted to the fullest extent of the law. But this is no ordinary call for justice-someone is conspiring to bring down the city's entire police force in cold blood. Only District Attorney Roger "Butch" Karp, his crime-fighting wife, Marlene, and his band of truth-seekers can unravel the mystery without fear or favor-and find out the unthinkable truth.
It took me a while to get into this book but I did enjoy it.
Now You See Her by Joy Fielding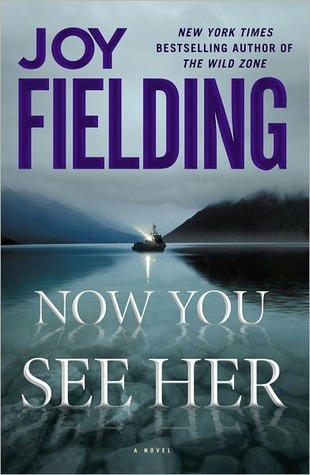 When Marcy Taggart goes to Ireland after divorcing her husband of twenty-five years, a chance encounter catapults her life into turmoil. Years earlier, her daughter, Devon, disappeared in the icy waters of Georgian Bay after a canoeing accident, her body never recovered. But on a day trip to Cork, Marcy is certain she spots Devon walking down the street. When her daughter disappears into a crowd, Marcy begins a desperate search to find her-and to uncover the disturbing truth that might, in the end,
be her only salvation.
The main character, Marcy, for a 50 year old woman comes across as immature, gullible, very unrelateable and therefore it was hard to sympathize with her plight. She seemed to be blinded by her desperate need to find her daughter and some of the decisions she made were extremely dangerous. It made you wonder if she was of sound mind and could probably benefit from counselling!
I've Got My Eye on You by Mary Higgins Clark
When 18 year old Kerry Dowling is found dead at the bottom of the family pool, her devastated
family faces the horrifying realization that Kerry might have been murdered by someone she loved.
The obvious first suspect is Kerry's boyfriend, with whom she'd had a bitter argument at a party she threw while her parents were away. But suspicion falls upon the Dowlings' neighbour, an intellectually disabled young man named Jamie. Was a lack of invitation to the party enough to set him off-and is the pile of wet clothing his mother found in his room a sign of something sinister?
A guidance counselor at the local high school, Kerry's grieving older sister, Aline, is bent on unveiling the truth. Working closely with the detective assigned to the case, she turns up helpful clues. But the more Aline digs, the more she's putting her own life in grave danger.
Well, this was an easy read but I think MHC is losing her touch. It was so predictable and really didn't have much suspense. It was so easy to figure out who the 'bad guy' was very early on in the book.
The Stars Below by David Baldacci
From the beginning, the fight was coming. Vega Jane fought her way out of the village where she was born, crossed a wilderness filled with vicious creatures., and raised a ragtag army behind her. But each triumph earned through grit and pain only brought her closer to him.
Necro. A sorcerer whose unspeakable evil is matched only by his magical power.
Vega and Necro are on a collision course
The clash between his awesome power and her iron will
is going to shake the stars down. Their fight will seal their fates....and determine the future of the world.
The battle rages in the furious conclusion to the Vega Jane series.
I really enjoyed this final book in the series, but you have to be a fan of fantasy fiction. I'm kind of disappointed that this is the last book in the series. My only complaint would be that there was such a long time between books three and four being published so you really had to rattle the memory banks to remember who some of the characters were.
Winter's Daughter by Kathleen Creighton
Nothing stirred Tannis Winter like the plight of the homeless, and she'd devoted herself to aiding the street people she'd chosen for her research. But when a mysterious-looking derelict began following her in her bag-lady disguise, she felt a moment of terror--then knocked him to the ground and got him arrested! How was she to know he was the new town councilman, working undercover to expose the city's failure to help the poor? Dillon James was bewitched by her courage and her compassion, but it was the summer in her skin and the fire in her eyes that made him want to ignite a hidden passion in the enchanting crusader. Tannis felt the hunger of need erupt inside, but could she trust this darkly handsome man with a heart once betrayed? Dillon stalked her with fierce desire and a yearning to be cherished, but the pain of his past echoed her own. Could he make her see that once they'd touched, he'd be part of her life forever?
Well, if I'd read the above before I read the book I probably wouldn't have read it. You don't get any blurb about the book when you read it on your phone. It makes it sound like a Harlequin Romance, which is not my bag! I got the blurb from 'Goodreads'. Parts of it were okay but the rest fit more into the Harlequin Romance realm. It was okay for sitting waiting at appointments!!