I've had this post in my draft folder for a long time. Just kept forgetting to finish it. Finally, a few more books to read about.
Beartown by Fredrik Backman
People say Beartown is finished. But down by the lake stands an old ice rink, built generations ago by the working men who founded the town. And that rink is the reason people in Beartown believe tomorrow will be better than today. Their junior ice hockey team is about to compete in the national championships, and they actually have a shot at winning. All the hopes and dreams of the town now rest on the shoulders of a handful of teenage boys.
Being responsible for the hopes of an entire town is a heavy burden, and the semifinal match is the catalyst for a violent act that leaves a young girl traumatized and a town in turmoil. Here is a story no one wants to believe, since the truth would mean the end of the dream. Accusations are made and, like ripples on a pond, they travel through all of Beartown, leaving no resident unaffected.
I had a hard time with this book. I think part of it was that there were so many characters with difficult Swedish names that were hard to keep straight. Maybe I kept getting confused with this book because I read it not long after the Humbolt crash and I kept getting confused about the location of the story. I kept thinking it was in Saskatchewan and things weren't quite making sense. Maybe it just wasn't a good time to read this book. I found it really slow going at the start but it did pick up and get better. It also started to make more sense when I later read that it was going to be part of a trilogy, although I don't know if I will read the other books when they come out
The Good Daughter by Karin Slaughter
Twenty-eight years ago, Charlotte and Samantha Quinn's happy small-town family life was torn apart by a terrifying attack on their family home. It left their mother dead. It left their father-Pikeville's notorious defense attorney-devastated. And it left the family fractured beyond repair, consumed by secrets from that terrible night.
Twenty-eight years later, Charlie has followed in her father's footsteps to become a lawyer herself-the ideal good daughter. But when violence comes to Pikeville again-and a shocking tragedy leaves the whole town traumatized-Charlie is plunged into a nightmare. Not only is she the first witness on the scene, but it's a case that unleashes the terrible memories she's spent so long trying to suppress. Because the shocking truth about the crime that destroyed her family nearly thirty years ago won't stay buried forever...
I actually loved this book! It was shocking and chilling at times and full of surprises. I would definitely recommend this book and I will be looking for more books by this author.
The Girl Who Takes an Eye for an Eye by David Lagercrantz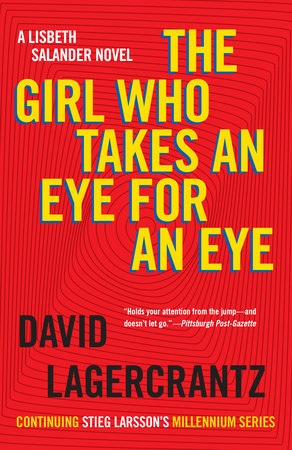 Lisbeth Salander is serving time in Flodberga Prison when a sadistic gang leader nicknamed Benito starts to torture Faria, a young Bangladeshi prisoner. Salander finds it impossible not to intervene and becomes a target of Benito and her gang. Salander's time in prison is further complicated by news from her old guardian, who tells her she may have been a subject in a secret experiment known as the Registry. She enlists her friend Mikael Blomkvist, crusading editor of Millenium magazine, to help her look into it.
Once Salander is released, she devotes her time to uncovering the truth in the case that landed Faria in prison, and Blomkvist continues his search into Salander's background. But when the two cases start to dovetail, Lisbeth and Blomkvist must join together to fight for justice and their lives.
Although I love this continuing series of books I think I was a little disappointed in this book, as I was with the last one. Since Lagercrantz started writing the books I don't think they are as good as the first three written by Larsson. As Lisbeth is the main character in all the books I didn't think she had a very big role in this book. I just expected more.
The Secret Garden by Frances Hodgson Burnett
I read this book on my phone when waiting at appointments etc.
From Wikipedia:
At the turn of the
20th century
, Mary Lennox is a sickly and unloved 10-year-old girl, born in India to wealthy British parents who never wanted her and make an effort to ignore the girl. She is cared for by servants, who allow her to become a spoiled, aggressive, and selfish child.
After a cholera epidemic kills her parents and the servants, Mary is discovered alive but alone in the empty house. She briefly lives with an English clergyman and his family in India before she is sent to Yorkshire, in England, to live with Archibald Craven, a wealthy uncle whom she has never met, at his isolated house, Misselthwaite Manor.
I remember reading this book and watching the series on tv and just loving it. As an adult not so much. I found it very repetitive and a lot of the time quite boring. I read a review that said some things are best left in our childhood, and I think I agree. Not to spoil the story, Mary is left to her own devices and discovers a secret garden within the grounds of Misselthwaite Manor. She also hears a crying child during the night and eventually discovers her cousin Colin. She also befriends a boy Dickon who is an animal whisperer. They all get together in the secret garden. I even kind of felt let down at the end of the book. I thought there should have been more.