Frozen Out by Quentin Bates
The discovery of a corpse washed up on a beach in an Icelandic backwater sparks a series of events that propels the village of Hvalvik's police sergeant, Gunnhildur, into deep waters.
Although under pressure to deal with the matter quickly, she is suspicious that the man's death was no accident and, once she has identified the body, Gunnhildur sets about investigating his final hours. The case takes her away from her village and into a cosmopolitan world of shady deals, government corruption and violence. The police sergeant finds herself alone, less than welcome in this hostile environment, as she tries to find out who it was that made sure the young man drowned on a dark night, one hundred kilometers from where he should have been-and why.
I enjoyed this book, although, as usual, struggled with all the Scandinavian names! I didn't know at the time of reading that this is the first book in a series by this author. The
main character Detective Gunnhilder - Gunna for short a
detective in a small rural office with three people! She's very determined and once you get into the story it makes you want to keep reading to find out what happens. I would probably read more books in this series.
Don't Let Go by Harlan Cohen
Suburban New Jersey detective Napoleon 'Nap' Dumas hasn't been the same since his senior year of high school, when his twin brother, Leo and Leo's girlfriend, Diana, were found dead on the railroad tracks-and Maura, the girl Nap considered the love of his life, broke up with him and disappeared without explanation. For fifteen years, Nap has been searching, both for Maura and for the real reason behind his brother's death. And now, it looks as though he may find what he's been looking for.
When Maura's fingerprints turn up in the rental car of a suspected murderer, Nap embarks on a quest for answers that only leads to more questions-about the woman he loved, about the childhood friends he thought he knew, about the abandoned military base near where he grew up, and mostly about Leo and Diana-whose deaths are darker and far more sinister than Nap ever dared imagine.
I enjoyed this book. It had lots of twists and turns. The ending was surprising but when you think back on the story, not so much.
Behind Closed Doors by B.A. Paris
Everyone knows a couple like Jack and Grace. He has looks and wealth; she has charm and elegance. He's a dedicated attorney who has never lost a case; she is a flawless homemaker, a masterful gardener, and cook, and dotes on her disabled younger sister. Though they are still newlyweds, they seem to have it all. You might not want to like them, but you do. You're hopelessly charmed by the ease and comfort of their home, by the graciousness of the dinner parties they throw. You'd like to get to know Grace better.
But it's difficult, because you realize that Jack and Grace are inseparable.
Some might call this true love. Others might wonder why Grace never answers the phone. Or why she can never meet for coffee, even though she doesn't work. How she can cook such elaborate
meals but remain so slim.
Or why she never seems to take anything with her when she leaves the house, not even a pen. Or why there are such high-security
metal shutters on all the downstairs windows.
Some might wonder what's really going on once the dinner party is over, and the front door has closed.
This book includes abuse of women, including intended abuse on a handicapped girl. It's dark to say the least. S
o many things can happen in the life of a married couple and we wouldn't know it. I found the ending a little anticlimactic but wondered how else the situation could be resolved given everything that had happened previously.
The Paris Wedding by Charlotte Nash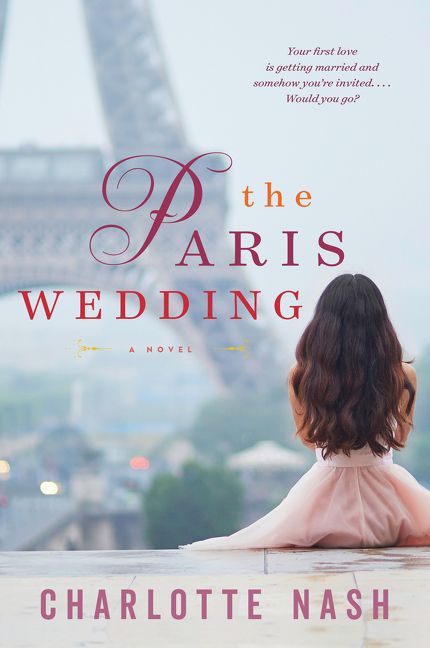 It's been ages since Rachael West has seen the man she once believed she couldn't live without. Receiving his wedding invitation is bittersweet-she's oddly touched he asked her to come but knows that facing him at his wedding would be the hardest thing she'd ever have to do.
But her friends and family convince her to attend. After all, it's an all expenses paid trip to Paris! Surely she can get through that one day and spend the rest of the time discovering all the delights of that magical city.
So Rachael leaves her small town, setting off for the City of
Lights with her best friend, two feuding neighbors, and a suitcase full of home-sewn couture. She's determined to let Paris work its magic-and it does by way of a handsome photojournalist. Before her adventure is over, Rachael will be faced with yet another choice. But this time, hers isn't the only happiness at risk....
Racheal really annoyed me. Some of the decisions she made just made me shake my head. This is a typical romance story so you can probably figure out the ending. Probably the best part was the setting.