Monday, June 1, 2020
An Indecent Obsession by Colleen McCullough
The mental ward of a military hospital on a tropical Indo-Pacific island at the end of World War II is the setting. Ward X is a self-contained world for its five remaining patients and their nurse, Honour Langtry. Not only is it physically isolated; the type of illness it harbors sets it apart from the rest of the hospital. For Ward X is the "troppo" ward, its inmates soldiers who have broken under the stresses of jungle warfare.
Honour Langtry cares deeply for the five men now in her charge-the ward leader, Neil Parkinson, blind Matt Sawyer, sickly Nugget Jones, the sadistic and amoral Luce Daggett and the severely withdrawn Benedict Maynard. Each is very different from the others in background, temperament and the nature of his problem, but all are bound together by the routine of their days and-above all-a shared and possessive devotion to their nurse. The last thing she and they anticipated or want at this late date, with the hospital soon to close, is a new admission.
And when Sergeant Michael Wilson presents himself at Ward X he is instantly an unsettling presence, not only becausr he will upset the delicate balance of the ward but because he is so visibly intact, a man composed and very much in charge of himself. What is Michael Wilson doing here? Why is he a patient?
His papers tell Honour Langtry of a violent crisis from which he ostensibly needs to recover, but it is hard to square this with the man she sees and begins to know-though not understand. Still, after a difficult introduction the other men seem to accept him, and Michael proves o be a pleasant and helpful addition. The initial disquiet vanishes. All seems to be well.
But Honour Langtry, so dedicated and professional, so caring yet objective, does not see-cannot see-the devastating consequences of her burgeoning interest in Michael Wilson. And he, never willing it, becomes the catalyst for jealousy, violence, intrigue, conspiracy, love-and tragedy.
Can't say I would recommend this book. I found it unbelievable in a lot of ways. Putting one nurse with 6 psychotic men a long way from any of the other staff! I didn't find Honour very believable and found her quite 'pie in the sky'. The outcome of the men could be believed but not so much the nurse, Honour.
Ice Hunt by James Rollins
Buried deep in the earth's polar ice cap-carved into a moving island of ice twice the size of the United States-is the site of a remarkable experiment that blurred the line between life and death. Abandoned for more than seventy years, Ice Station Grendel-the twisted brainchild of the finest minds of the former Soviet Union-was designed to be inaccessible and virtually invisible.
But an American undersea research vessel, the Polar Sentinel, has inadvertently pulled too close. And a crew member has seen something alive inside, something whose survival defies every natural law.
As scientists, soldiers, intelligence operatives of two powerful nations, and unsuspecting civilians alike are drawn into Grendel's lethal vortex, no measures undertaken to protect its mysteries will be considered too extreme. Because the terrible truths locked behind submerged walls of ice and steel could forever alter humankind's future...or destroy it.
I enjoyed this book more than I expected to. It's the first James Rollins book I've read. It's full of action and although far fetched in some parts, I still enjoyed it. I found it a bit drawn out in parts, the story could have had 100 less pages and not lost anything. I would read more of this author's books.
The Wingless Bird by Catherine Cookson
Agnes Conway is twenty-two years old as the novel unfolds in December 1913. With rumors of war rumbling throughout Europe, young Agnes is determined to make a better life for herself. She works selflessly for her loutish father and dreary mother in the family's candy and tobacco stores, while her pampered younger sister, Jessie,
attends secretarial school. When Jessie becomes pregnant out of wedlock by one of the town's ruffians, the family's outlook seems sure not to improve.It is only by chance that Agnes comes to meet the high-born, well-to-do Charles Farrier, who offers Agnes a glimpse of a world far different from her own. When Charles shocks his family and takes Agnes as his bride, Agnes begins to feel that her virtuous life has been rewarded. But the cruel realities of war and illness cut short Agnes's hard-won happiness, and test her resilience and courage.
This was a very easy read which, while very predictable, I enjoyed it. Typical WW1 romance.
In a Dark, Dark Wood by Ruth Ware
Leonora Shaw is a crime writer. Ten years ago, following the breakup of a young love affair, she left a school in which up to then she had been very happy, lost touch with all her school friends and now lives alone in a small flat in Hackney, in which she devotes her entire time to writing. Her only relaxation is her daily running, at which she excels.
Then, out of the blue, she receives an e-mail inviting her to the hen party of Clare, who had been her best friend throughout her entire time at school, and whom she had loved and admired in equal measure. The party is to be held in a house situated in the middle of Kielder Forest in Northumberland. The invitation comes from Flo, who now claims to be Clare's best friend. Nora – which is the shortened form of her name by which she is now known - initially decides to ignore the invitation, but out of curiosity reads the names of the other people invited. She only knows one of them, another former school friend called Nina. She decides to do no more about it, but then receives an e-mail from Nina, suggesting that they go together. Reluctantly, Nora agrees.
It wasn't too hard to figure out the 'who done it'. The story dragged in parts but I did find it interesting, although not very suspenseful!
Crossing the Borders of Time by Leslie Maitland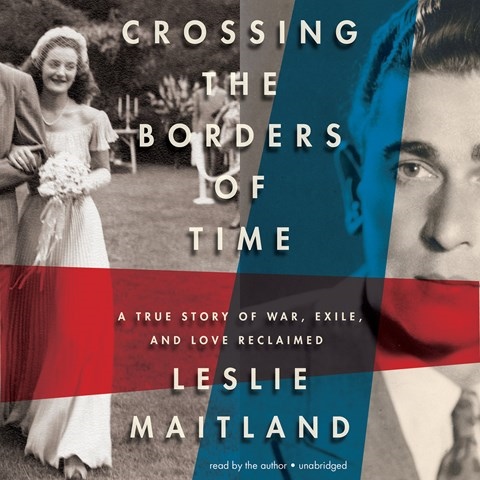 Leslie Maitland , an award-winning former New York Times investigative reporter,
grew up enthralled by her mother
Janine's dramatic stories of last-minute escape from the Nazis in Europe and of her star-crossed love for Roland, a young Catholic Frenchman. Forced to part in 1942, when Janine, a German Jew, fled to refuge in Cub, the couple had pledged to marry after the war. But dislocation and Janine's family thwarted their goal. Later, while starting anew with a dynamic American husband, Janine continues to dream of her lost Roland, until Maitland ultimately set out to find him. This impeccably researched accont culminates in the daring fulfillment of a vow of love made fifty years earlier in a world torn by persecution and war.
The first half was excruciatingly slow, there's a lot of unnecessary details
devoted to dry historical information, taking away from the primary, more personal story.
It's important information, and I usually do enjoy history, but the author threw in every little tidbit from her research and turned the book into a slog-fest.
The story meandered all around and got lost in annoying details.
It was a struggle. I was lured in by the whole 'reunion after 50 years', but it felt like it took forever to get to that part.
Finally the big reunion -- which might have been a lot more touching if the author's father hadn't been at home dying while she's trying to find mom's lost love. and he has a wife.
Parts were very interesting but far too much of the book was, unfortunately, boring.
This addon is for Suzanne at 'Daily Life at Number 38'. I read your last post and wanted to leave a last comment to you but it said that
Comments on this blog are restricted to team members
so I have put my comment here hoping that you will read it if you visit me.
Suzanne I'm so sad to see you go but I'm sure you have very valid reasons for making this decision. I've read your blog from the beginning and having lived so close to where you are have enjoyed the little memory jogs you have given me. I will miss you but I wish you and the family all the best and hope you get to your caravan soon. Take care.