Last of the 2018 books read. Don't seem to get beyond the mid twenties every year!
The Moon Trilogy by C.L.Bevill
Donovan is a werejaguar sworn to fight against his enemies, the dreaded werewolf clan - the Whitelaws. Isabella is an uncommon librarian, a member of the Committee. When she faces down the Whitelaws to retrieve a very dangerous book, she encounters Donovan and their lives will never be the same.
Mirie is a Committee agent and sent to watch a handsome elvish prince. The prince allegedly has the Eyes of the Amber Moon, a magical artifact, that can be used to destroy the world. She quickly learns that all is not as it seems and the mystery of who she really is is connected to the enigmatic elfish realm. She must fight for herself, the relic, and her love for the halfling prince.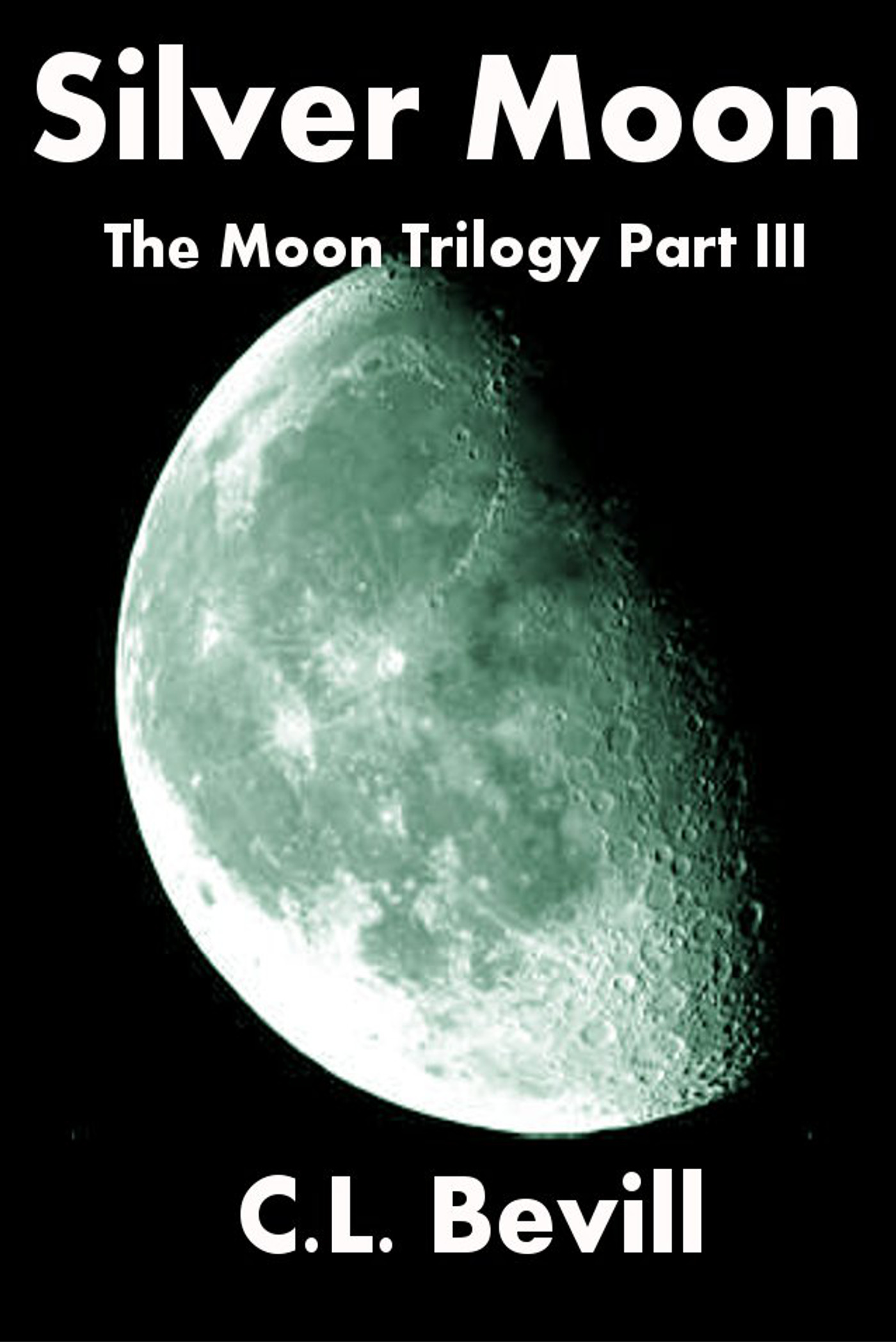 Jack Drake must discover what the secretive third part of the moon relic is and destroy it before it can be used to decimate
the world. The mysterious Asta is hot on Jack's tail, eager to
gain his trust and find the Silver Moon's Mystery. Together the pair must endure a trial of fire, dragons, and werewolves.
These were 3 novellas that I read on my phone. They were total fluff. Very far fetched but at the same time kept you reading. Not something I would buy but okay for reading when I was waiting at an appointment or in the car.
Hope this colour of green is easier to read than the previous one.
Into the Water by Paula Hawkins
A

single mother turns up dead at the bottom of the river that runs through town. Earlier in the summer, a vulnerable teenage girl met the same fate. They are not the first women lost to these dark waters, but their deaths disturb the river and its history, dredging up secrets long submerged.
Left behind is a lonely fifteen-year-old girl. Parentless and friendless, she now finds herself in the care of her mother's sister, a fearful stranger who has been dragged back to the place she deliberately ran from—a place to which she vowed she'd never return.
With the same propulsive writing and acute understanding of human instincts that captivated millions of readers around the world in her explosive debut thriller,
The Girl on the Train
, Paula Hawkins delivers an urgent, twisting, deeply satisfying read that hinges on the deceptiveness of emotion and memory, as well as the devastating ways that the past can reach a long arm into the present.
Beware a calm surface—you never know what lies beneath.
I have to say I wasn't crazy about The Girl on the Train and I wasn't crazy about this book either. There's definitely a reason for the cast of characters at the beginning of the book. I kept having to refer back to it to keep everyone straight. It
doesn't focus on any one character, but rather moves between the perspectives of many members of a British town. On the whole I found it very disjointed. It
is about who drowned, when they drowned, and why they drowned. After bouncing me around from one character to the next through the first half of the book, my interest quickly started to wane.
At no time did I feel any suspense building nor could I form a connection with any of the unlikable characters. I found the ending was very lackluster. I don't think I will read another book by this author.
The Girl Before by J P Delaney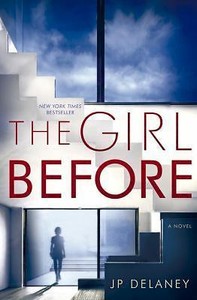 The Girl Before spins one woman's seeming good fortune, and another woman's mysterious fate, through a kaleidoscope of duplicity, death, and deception.
Emma: Reeling from a traumatic break-in.
Emma wants a new place to live and discovers One Folgate Street:
an architectural masterpiece sleekly designed with soaring ceilings. But there are rules for tenants. The house's enigmatic architect likes to retain full control of the surroundings, mandating, among other things, no clutter of any kind. The space is ingeniously crafted to transform its occupants.
Jane:After a personal tragedy, Jane needs a fresh start. She is instantly drawn to One Folgate Street-and to its aloof but seductive creator. Moving in, Jane soon learns about the untimely death of the home's previous tenant. As Jane tries to untangle truth from lies, she unwittingly follows the same pattern, makes the same choices, and experiences the same terror, as the girl before.
Both women look alike, and both were involved with Edward Monkton, the architect and mastermind behind One Folgate Street--both also happen to bear an eerie resemblance to Edward's deceased wife. Jane begins to investigate Emma's death, and by doing so, puts herself in danger. The women in this story were rather annoying. They put up with so much crap and still didn't get the hell out of there. They just annoyed me. Parts of the book were intriguing but on the whole-stupid!
The Clockmaker's Daughter by Kate Morton
In the summer of 1862, a group of young artists led by the passionate and talented Edward
Radcliffe descends upon
Birchwood
Manor on the banks of the Upper Thames. Their plan: to spend a secluded summer month in a haze of inspiration and creativity. But by the time their stay is over, one woman has been shot dead while another has disappeared; a priceless heirloom is missing; and Edward Radcliffe's life is in ruins.
Over one hundred and fifty years later, Elodie Winslow, a young archivist in London,
uncovers a leather satchel containing two seemingly unrelated items: a sepia photograph of an arresting-looking woman in Victorian clothing, and an artist's sketchbook containing
the drawing of a twin-gabled house on the bend of a river.
Why does Birchwood Manor feel so familiar to Elodie? And who is the beautiful woman in the photograph? As Elodie pursues these clues, the lives of the many people who have passed through the house are revealed. There is Radcliffe, whose love affair with his model and muse consumes him; his sister Lucy, who opens a school for young ladies; Leonard Gilbert. a soldier and scholar who retreats to Birchwood after WW1 to heal and to write a biography of Radcliffe; Juliet. a young widow who takes refuge there with her three small children during the Blitz; and, in the present day, Jack Rolands, who has come from far away to search for lost treasure and who meets Elodie when she eventually arrives at the house.
Intricately layered and told by multiple voices across time, this is a kaleidoscopic story of murder, mystery, and thievery, of art, love, and loss. And flowing through its pages like a river is the voice of a woman who stands outside time, whose name has been forgotten by history, but who has watched it all unfold: Birdie Bell, the clock maker's daughter.
I have to say I have read all of Kate Morton's books and for the most part, really liked them. This one, not so much.
I had a difficult time following the jumping time lines and in turn, connecting with the characters. With so much going on I had a hard time connecting to the characters and story. Quite often I wouldn't know who I was following and had to keep looking back. In the end I'd say this one just wasn't my cup of tea but I'm sure some readers will love it.
The Bookshop of Yesterdays by Amy Meyerson
Miranda Brooks grew up in the stacks of her eccentric Uncle Billy's bookstore, Prospero Books, solving the inventive scavenger hunts he created just for her. But on
Miranda's twelfth birthday, Billy has a mysterious falling-out with her mother, and Miranda doesn't hear from him again until sixteen years later when she receives unexpected news: Billy has died and left her Prospero Books, which is teetering on bankruptcy—and one final scavenger hunt.
When Miranda returns home to Los Angeles and to Prospero Books—now as its owner—she finds clues that Billy has hidden for her inside novels on the store's shelves, in locked drawers, in mailed packages. Miranda soon finds herself drawn into a journey where she meets people from Billy's past, people whose stories reveal a history that Miranda's mother has kept hidden—and the terrible secret that tore her family apart.
Bighearted and trenchantly observant, The Bookshop of Yesterdays is a lyrical story of family, love and the healing power of community. It's a love letter to reading and bookstores, and a testament to how our histories shape who we become.
I actually enjoyed this book even though the ending was very predictable. I loved the premise of the scavenger hunt and there were enough twists and turns to keep it interesting.
Well, that's it for 2018.
I think my favourite books for the year were
The Cuckoo's Calling,
The Silkworm and
Career of Evil by Robert Galbraith.
What She Knew by Gilly MacMillan
Gray Mountain by John Grisham
Name of Dead Gi
rls by Eric Rickstad
The Good Daughter by Karin Slaughter
I hope I have more favourites in 2019 than in 2018.