City of Endless Night by Preston & Child
When Grace Ozmian, the beautiful and reckless daughter of a wealthy tech billionaire, first goes missing, the NYPD assumes she has simply sped off on another wild adventure. Until the young woman's body is discovered in an abandoned warehouse in Queens, the head nowhere to be found.
Lieutenant CDS Vincent D'Agosta quickly takes the lead. He knows his investigation will attract fierce scrutiny, so D'Agosta is delighted when FBI Special Agent A.X.L. Pendergast shows up at the crime scene assigned to the case. "I feel rather like Br'er Rabbit being thrown into the briar patch," Pendergast tells D'Agosta, "because I have found you here, in charge. Just like when we first met, back at the Museum of Natural History."
First of all I didn't know that this was, I think, #17 in a series. They are all independent stories but if I had read the other books I think I would have had a better understanding of D'Agosta and Pendergast. I did enjoy this book although I did feel a bit confused at the end. I don't know what the ex Jesuit priest had to do with the story. It was definitely a page turner and I will look for other books in this series.
Inside Out Girl by Tish Cohen
Rachel Berman wants
everything
to be perfect. An overprotective single mother of two, she is acutely aware of the statistical dangers lurking around every corner—which makes her snap decision to aid a stranded motorist wholly uncharacteristic. Len Bean is stuck on the shoulder with Olivia, his relentlessly curious, learning disabled ten-year-old daughter. To the chagrin of Rachel's children, who are about to be linked to the most-mocked girl in school, Rachel and Len begin dating. And when Len receives terrible news, little Olivia needs a hero more than ever.
But the world refuses to be predictable. When personal crisis profoundly alters Rachel's relationship with a wild, very special little girl, this perfectionist mother finds herself drawn into a mystery from her past and toward a new appreciation for her own children's imperfect lives.
This was another book that I read on my phone so my reading time was a bit sporadic. It's a cute, funny, at times heart wrenching story. Having worked with 'special ed.' kids for many years a 'got' Olivia but I found the story was just too pat. We are left wondering what is going to happen (sequel?). I found the ending was too hearts and flowers and rather unrealistic the way it came together. It was as if the author ran out of time and had to wrap it up before she had really finished the story.
Slow Burn by Julie Garwood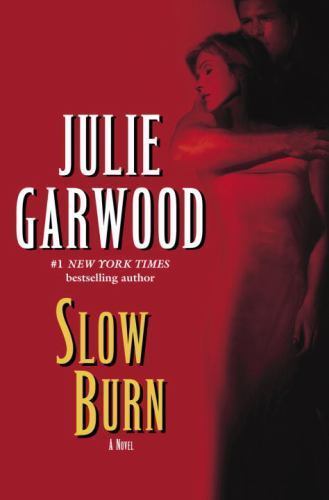 An unpretentious beauty who radiates kindness, Kate MacKenna doesn't have a bad bone in her body-or an enemy in the world. So why are bombs igniting everywhere she goes? The first explosion brings her face-to-face with a handsome Charleston police detective. The second one sends her into the arms of her best friend's brother-a Boston cop who's a little too reckless and way too charming for comfort. But Dylan Buchanan won't let emotion prevent him from doing his job: Someone is trying to kill Kate, and Dylan is the only one standing between her and the monster who wants her dead.
I didn't realize that this book was part of a series. I don't think you needed to read the others before reading this one. I found it pretty light weight, although interesting. I had an idea who the bad person was but the story did keep you guessing.
The Late Show by Michael Connelly
Renee Ballard works the midnight shift in Hollywood, beginning many investigations but finishing few as each morning she turns everything over to the daytime units. It's a frustrating assignment for a once up-and-coming detective, but it's no accident. She's been given this beat as punishment after filing a sexual harassment complaint against a supervisor.
But one night Ballard catches two assignments she doesn't want to part with. First, a prostitute is beaten and left for dead in a parking lot. All signs point to someone with big evil on his mind. Then she sees a young waitress breathe her last after being caught in a nightclub shooting. Against orders, Ballard works both cases by day while maintaining her shift by night
As the investigations entwine, Ballard is forced to face her own demons and confront a danger she could never have imagined. To find justice for these victims who can't speak for themselves, she must put not only her career but her life on the line.
I did enjoy this book although it does annoy me when a person (Renee) who should know better, does such stupid things. She put herself in harms way so many times it was a little hard to believe. It did keep me interested right the way through and I have read that this is a new series. I would probably read more books in this series.
,
Cheshire, the 1920's, a time of great glamour and decadence, high living and loose morality, a time where anything goes-and does.
Amber Vrontsky is the heiress to the Pickford dynasty, presided over by the formidable Blanche.
Obsessed with social climbing, Blanche wants nothing more for her granddaughter than a titled husband-something which, despite her immense wealth, she failed to secure.
But free-spirited Amber is intent on forging her own artistic career with the silk she loves so much. Unable to disobey Blanche, however, she moves to society London to become a debutante-and enters a world of illicit affairs, drug-taking, gambling, lavender marriages and corruption.From the lavish decadence of aristocratic London to the opium dens of the Far East, the chic boutiques of Paris to the Nazi-controlled streets of Berlin, Silk reveals the scandal and glamour of a tumultuous period in history.
I did enjoy this book and have since found out that it is the first book in a trilogy. I will definitely look for the other two.
The Dressmaker by Rosalie Ham
When she was only ten years old, little Tilly Dunnage was forced to leave her hometown of Dungatar in rural Australia under a black cloud of accusation.
Years later Tilly, now a couturier for the Paris fashion houses, sweeps back into town hoping to make peace with her mentally unstable mother.
But mid-century Dungatar is a small town, and small towns have long memories. At first she wins over the suspicious locals with her extraordinary dressmaking skills. But when the eccentric townsfolk turn on Tilly for a second time, she decides to teach them a lesson...
Maybe the movie was better!!
This might be one of the worst books I've actually finished reading. And I finished reading it because it is relatively short and I wanted to see if it would get any better. It didn't.
One of those books where you really don't like most of the characters, and there were so many of them to try and keep track of, but still read on to see what happens. The towns people were not portrayed in a flattering light, and that was the entire town! Didn't like most of the ending, I didn't think it made much sense.